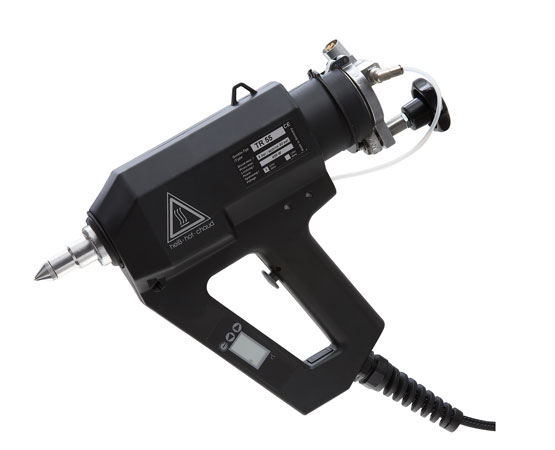 High quality Granulate Gun, perfect for Knot Filler application. Use the TR55 Granulate gun to repair knots, cracks etc. in wood and formwork - More info
How does it work?
Use the TR55 Granulate gun this easy:
Fill the tank with Knot Filler granulate
Turn it on
Adjust the temperature accordingly (see the label on the Knot Filler sack)
Let the TR55 Granulate Gun pre-heat for 3 minutes
"Shoot" Knot Filler Granualte into the repair. Cool the Knot Filler with a cooling iron/brick and cut off excess Knot Filler with a cutting tool
TECHNICAL INFO:
Weight: 1.400 g
Power consumption: 600 W
Power supply: 230 V / 50 Hz
Product information "TR55 Granulate gun"
The TR55 Granulate gun is a professional tool perfect for application of Knot Filler Granulate. The built-in electronic temperature regulation allows the TR55 Granulate Gun to work fast and precise. The temperature regulation keeps the temperature on a constant level, which makes the TR55 gun perfect for temperature-sensitive fillers such as Knot Filler. The Knot Filler granulate is extruded through air pressure, which increases work speed and simplifies the exact dosing of Knot Filler. Finally, the large tank of 300 ml allows continuous work for a long period of me.
PRODUCT INFO:
Built in electronic temperature regulation
Ready to work within 3 to 10 minutes
LCD display = Easy and precise temperature adjustments - the user always knows the current temperature
Keeps the temperature on a constant level
Tank with 330 ml capacity = continuous work for a long time
No o-rings in the system = no complex replacements thereof